The youngest of my three children is approaching 40. The oldest coming up on 50. So I'm very familiar with the two PBS staples of their childhood: Mister Rogers and Sesame Street. I must admit a personal preference for Sesame Street. I appreciated the specific life lessons Mister Rogers wove carefully into each episode, moving them back and forth between the two neighborhoods. But, like many parents, TV time was multi-tasking time. I found the commercial-like pacing and vibrancy of Sesame Street easier to pay half attention to.    
My kids, however, liked both. They loved the Sesame Street characters. (We all practiced mimicking their voices.) They loved the catchy songs. (I still have the songbook.) Both shows covered important life lessons about kindness, patience, love, persistence, boredom, curiosity, and the importance of making mistakes. But the slow pace with which Mister Rogers explored a topic from multiple angles was magical. It gave children lots of time to wonder (prompted by Rogers) as they wandered with him from the living room, to the Land of Make Believe, to an art museum or factory where they would focus on one painting or learn about the number of steps it took to design and produce a spoon.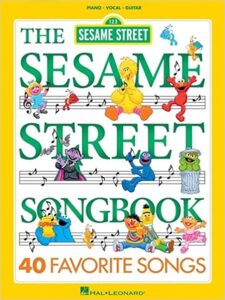 "It's a beautiful day in the neighborhood" drifts up to the surface in my head sometimes whenever I slow down to wonder about something. I appreciate Mister Rogers. I loved that Tom Hanks, one of the gentlest actors I know of, played Rogers in the song-titled movie that took us behind the scenes of the show and of his life. But, having now read When You Wonder, You're Learning, I am in awe of him, as I wrote in a requested promotional blurb.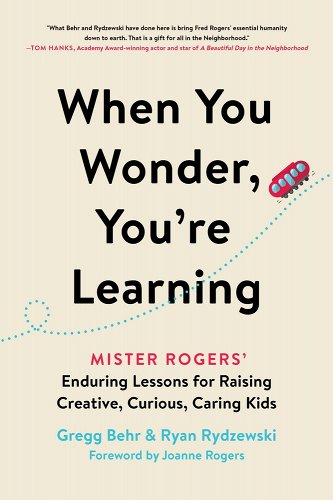 Chapter by chapter, Behr and Rydzewski bring Fred Rogers' humanity and intentionality to life. They chronicle his efforts to master the science of learning to make sure that every production decision conveyed what he wanted to share about curiosity, creativity, communication, collaboration, connection and growing up. The result is a treasure. A must read for anyone who, like me, only paid half attention to Mister Rogers, grateful that their children were wondering safely in his hands. 
The Children's Television Workshop went on to make developmental sequels for their pre-school viewers (Electric Company, 3-2-1 Contact, Powerhouse). Mister Rogers did not. Having now learned about the depth of his vision, I wonder if it is possible to bring the same intentionality Rogers brought to developing young children's sense of wondering to help school-age children and teens build up their sense of pondering defined as "thinking about something carefully, especially before making a decision or reaching a conclusion."   
Pondering, after all, is one of the hallmarks of adolescence.  It is their evolutionary job to push beyond the status quo to help us build better futures. 
Did You Know?
Written by Fred Rogers | © 1979, Fred M. Rogers
Did you know? Did you know?
Did you know that it's all right to wonder?
Did you know that it's all right to wonder?
There are all kinds of wonderful things!
Did you know? Did you know?
Did you know that it's all right to marvel?
Did you know that it's all right to marvel?
There are all kinds of marvelous things!
You can ask a lot of questions about the world…
And your place in it.
You can ask about people's feelings;
You can learn the sky's the limit.
Did you know? Did you know?
Did you know when you wonder you're learning?
Did you know when you marvel you're learning?
About all kinds of wonderful,
About all kinds of marvelous,
Marvelously wonderful things?