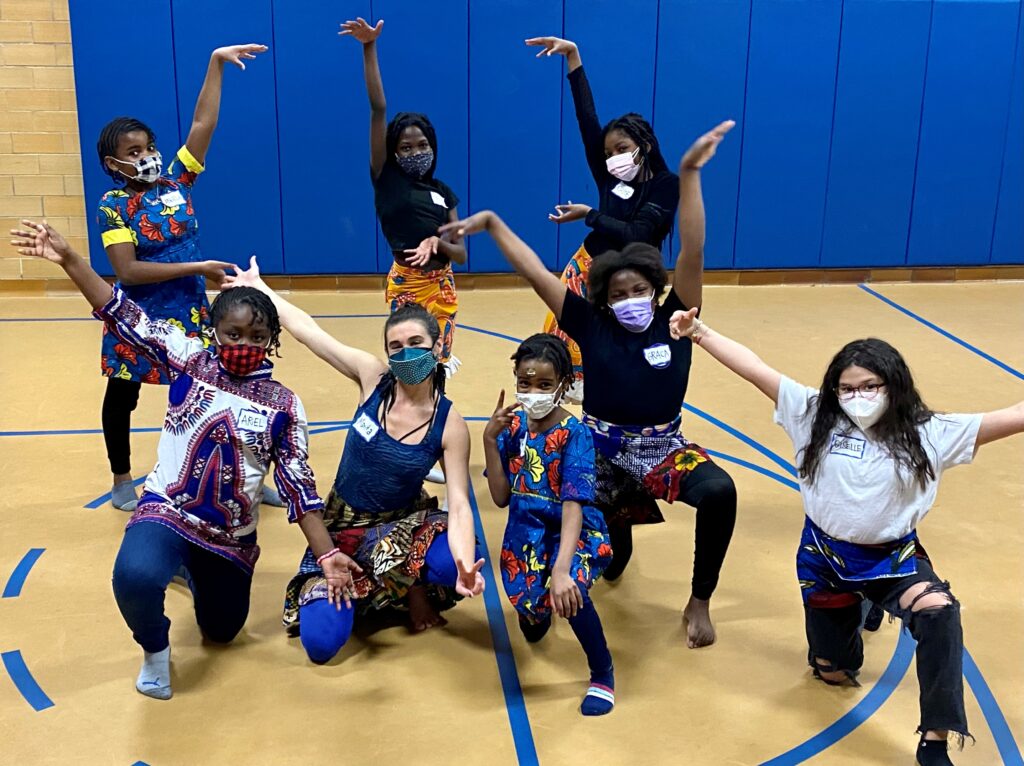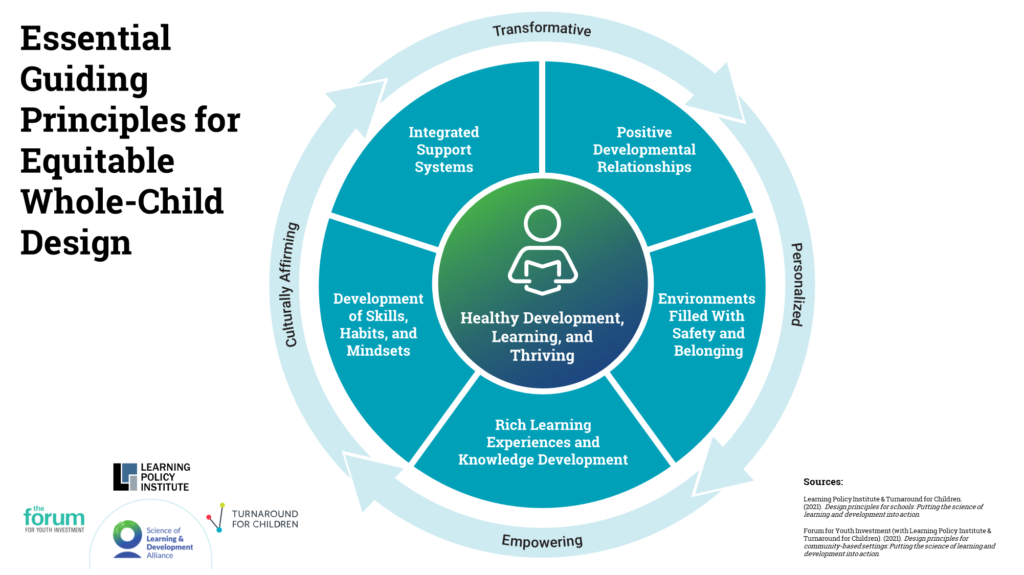 In this On The Record, we combine quick summaries of each of the Guiding Principles from Design Principles for Community-based Settings: Putting the Science of Learning and Development into Action[1] (below in yellow) with quotes from Erin's description of the work being done in Portland.
[1] Forum for Youth Investment (with Learning Policy Institute & Turnaround for Children). 2021. Design principles for community-based settings: Putting the science of learning and development into action.
On Positive Developmental Relationships
The key characteristics of a developmental relationship include emotional caring and attachment, reciprocity, progressive complexity, and a balance of power. The emotional connection is joined with adult guidance that enables young people to learn skills, grow in their competence and confidence, become more able to perform tasks on their own and take on new challenges. Children and youth increasingly use their own agency to develop their curiosity and capacities for self-direction. Looked at this way, developmental relationships can both buffer the impact of stress and provide a pathway to motivation, self-efficacy, learning, and further growth.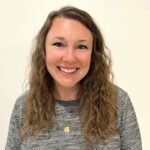 One thing I think that is really unique about the Club is that we get to know a kid and their family and their siblings across a large span of time. If you have a favorite teacher, you're with them for the school year, and then you move on to the next grade and you might stay in touch with them. We see kids every single day. For example, we could see a kid every single day from kindergarten to fifth grade or from seventh grade to their senior graduate. And so we're able, and I'm able, to create a really long-lasting and strong relationship that is built on years of trust and support and getting to know each other, so that I can best help them and they can have the best club experience. Part of how I do that is I try to have fun with the kids."
Something I say a lot is that I want the Club members to come to the Club to celebrate on their very best day when the most exciting thing has happened, but I also want them to come and see me on their very worst day when they need someone that can talk through a challenge or maybe a mistake they made, and really support them through that."
I'm very fortunate and appreciative that I get to wake up every day and go to a job that I absolutely love. And that's because the kids have allowed me to be part of their story and they've allowed me to build a relationship and we've been able to share experiences and they can open up to me."
On Environments Filled with Safety & Belonging
The brain is a prediction machine that loves order; it is calm when things are orderly and gets unsettled when it does not know what is coming next. Learning communities that have shared values, routines, and high expectations—that demonstrate cultural sensitivity and communicate worth—create calm and ignite the other part of the brain that loves novelty and is curious. Children are more able to learn and take risks when they feel not only physically safe with consistent routines and order, but also emotionally and identity safe, where they and their culture are a valued parts of the community they are in.
I like to provide structure and consistency for the kids so that they can thrive, and they know what is expected at the club."
For kids that are brand new to this country it could be a stressful journey. It can be a lonely journey. And so being able to come to a safe place where you feel welcomed and make new friends, or at least start to feel out the possibilities of what this new community, that's something that we are able to provide."
I've tried to create a space that's safe for those conversations and a space that is fun, but also relaxing and a place to come to if you need something or if you just wanna say hello. So I think part of that is also making sure that they know that we're available. So if they wanna talk, if they need to get something off their chest or they need to talk through a conflict we're there."
First and foremost, my top priority for my job is to be a safe and welcoming mentor for all the kids that come into our doors, regardless of their age. We serve 6- to 18-year-olds in one building. So you have to be able to work with a lot of different age groups."
On Rich Learning Experiences & Knowledge Development
Rich learning experiences require that adults provide both meaningful and challenging work, within and across core disciplines (including the arts, music, and physical education) for all , that build on learners' culture, prior knowledge and experience, and help them discover what they can do and are capable of in their zone of proximal development. Young people learn best when they are engaged in authentic activities and are collaboratively working and learning with peers to deepen their understanding and transfer of skills to different contexts and new problems.
We really try to be in tune with…what is new and trending? What do kids want to learn about? And then try to make sure that those are the things that we're offering for the age groups."
We do have four focus areas, and we then separate those programming areas by age groups. We have the arts, leadership, health and wellness, and academics. Then the programs that fall under those pillars are separated by age groups so that it's developmentally appropriate for all the kids that come to us…We do try to create kind of a more holistic experience with a lot of different types of activities so that we can engage kids who have interest all across the board, whether it is sports or Margarita did writing with us. So writing workshops, things like that, to music and art."
The actual program that is delivered, whether it's an art program or a stem program or a music program, that's gonna look really different for the age groups. And the reason we do that is because we don't want you to fall in love with art as a fifth grader and then not have some way to continue learning about that through the Boys and Girls Club when you're in middle school and high school. So we try to make sure that those program opportunities and program threads are embedded into everything that we do for each age group."
On Development of Skills, Habits & Mindsets
Supporting young people's learning and development means supporting them in developing the capacities—skills, habits, and mindsets—to direct and engage in their own learning. These capacities include understanding of and growth in social and emotional learning (SEL) skills, habits of mind for learning and persevering in learning, and sufficient health and wholeness to engage in the learning process.
Part of all of that is skill building based on trust – once we have that mentoring relationship, being able to help them navigate conflicts and challenges and build their social emotional skills to help them be more successful."
Help[ing] kids plan their future, that's a big goal of ours. And our mission in general is to inspire and enable all young people, especially the ones that need us the most, to realize the potential and be responsible in caring citizens. But the way that a lot of times we do that is to help them find a path to their future and help them come up with that plan, whatever that looks like for them."
What I can do after different workshops or experiences or college visits [is] be like, what did you think? How did you feel about that? What are your questions?"
On Integrated Support Systems
A well designed and implemented support system weaves together school and community resources to enhance equity of opportunity for success throughout the learning and development ecosystem and it recognizes the value of partnerships across settings. Community-based partners can and do provide assistance vital to social and academic success in classrooms and schools and connect learners and their families to services that promote holistic development. But they also work with other community-based partners and child and youth systems to make sure that all young people are connected to the supports they need to succeed.
The family shelter is oftentimes the first stop for our refugee and asylum-seeking families. So, if you come in as a family and you have a school age child, oftentimes the shelter, or even other families that are currently there, will recommend that you go check out the Club so that your kids have somewhere that they can go…They are becoming members and they're getting a hot meal and snacks every day. So their parents don't have to worry about that portion of food while they're worrying about navigating their new home and all the other things they have to do."
Oftentimes the family shelter identifies needs for us that we're able to jump in on. Oftentimes a school social worker or school teachers are able to help us come up with a plan or we can be a part of their plan to help support a family. So for me, I'm part of after school networks where anybody that works with youth can get on, and we can talk about what we have going on, but we can also talk about potential projects or potential needs."
We do have really strong relationships with the schools. And so, if we have a concern [about a member] we can raise that concern to a school. And that may be something that they are better equipped to handle on their end."
I try to be what I could have used back then, what I needed back then. And part of that is helping them navigate different challenges, whether it's inside the home or at school or in the community, or just getting resources to do things like go to college."