Anyone who knows me or has ever heard me speak knows that one of my all-time favorite infographics is the Foundations of Young Adult Success two pager that accompanies the full 2015 report prepared by the UChicago Consortium on School Research. Years ago, I turned the first page into animated slides that I use to move people quickly through the main messages about the importance of engaging all learners (all ages and abilities) with all adults (paid and volunteer) in all settings (family, school, community organizations, other public institutions) to optimize their possibilities for thriving and success.
More recently, I animated the flip page, which is a brilliantly concise visual of the key tasks associated with each stage of development from early childhood to young adulthood.  Why?  The messages about what it takes to optimize learning and development are breaking through, but they aren't being broken down. Programs and practices designed for children are being used with teens with little or no adaptation.  Teens then get blamed for low participation and poor results.  Differences between young adolescents, older adolescents, and young adults are overly simplified to the point that no group is well served. 
The Foundation for Young Adult Success infographic is a great cheat sheet.  I carry a hard copy with me (or I did pre-COVID).  But we need more.  We need a center completely focused on translating the science of adolescent development into powerful, practical ideas that stick to our brains and help us reframe our thinking.  Luckily, we now have one. 
The messages about what it takes to optimize learning and development are breaking through, but they aren't being broken down. 
The UCLA Center for the Developing Adolescent is new, and improved, and impressive. I spent three hours last week with three other advisors getting updates.  I then spent another two hours on my own, selfishly digging into the resources.
Find an hour to explore their web site.  
I don't think I've ever offered that recommendation before, even about our own web sites!  You'll need that much time to really grasp the fact that the starting point is adolescent development, not systems reform. The resources are organized under four big headings that reflect adolescents' lives:  health and well-being, learning and education, race and equity, technology.  Every resource, from podcast to research brief, is grounded in the key concepts.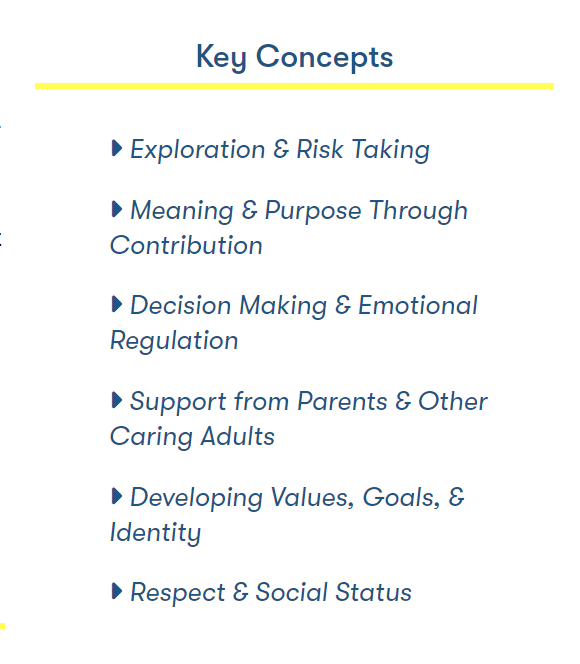 But if you only have 15 minutes to be convinced to bookmark the site:
Open the site and look at the scrolling banner across the top to see the range of topics and the breadth of translation approaches.
Click on the most unique one. The From 10 to 25 game. Watch the video (which starts with a 3 minute primer on the adolescent concept before explaining the game). 
Download the on-line game or order a deck of cards. Get started reliving (or if you're an adolescent reflecting) on the complexity and wonder of the journey into adulthood.
We welcome your contributions to the topic. Please reach out to talkwithus@kpcatalysts.com if you'd like to join to the discussion.