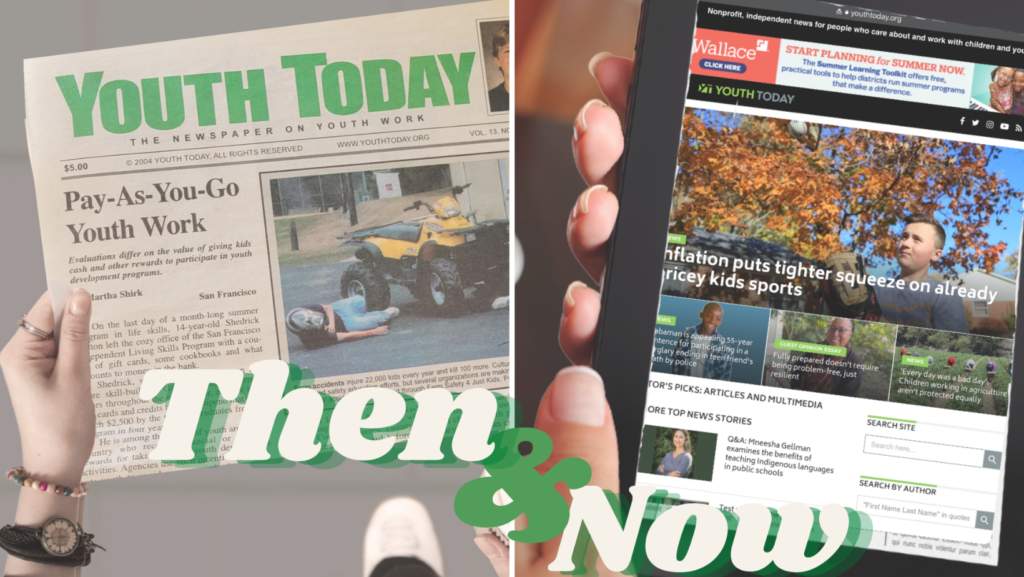 I received my first copy of Youth Today at the same one-day training where I first learned about Search Institute's 40 Developmental Assets. Less than a year later, I'd be in a Youth Development master's degree program. Less than 3 years later, I'd be working for Assets for Colorado Youth and a Youth Today subscriber. 
Each month when Youth Today would arrive (it was still a print publication back then) I'd turn first to Karen Pittman's column and other guest columnists. Youth Today was my link to the leaders in the field, to the ins and outs of the latest innovations and programming, to great grant resources, and more.  
Fast forward almost two decades… 
But with the passage of time and the transition of the publication to digital, the excitement and energy I felt to get Youth Today into my hands each month has waned a bit. I've heard similar tales from colleagues and counterparts that also experienced the paper as their "go to" during the early years of their career, but over time, lost their Youth Today connections during a period of multiple transitions, including from newsprint to to news online. Reading Youth Today is no longer a rite of passage as you "grow up" in the youth development field. It's time to change all of that.  
One of the first partnerships Karen and I embarked on as we launched Knowledge to Power Catalysts and Changing the Odds Remix was a revived partnership with Youth Today. Now, Youth Today is filled with top notch journalism and expertly covers topics from across the learning and development ecosystem (see below).  
Learning & Development
Education and Center Certification
Community-based Learning & Development
If you are a regular reader of our posts and blogs, you well know that Karen is once again a regular contributor to Youth Today, providing monthly guest opinion pieces. (Check out her latest.) What you may not know is that behind the scenes we've been launching a rock star level advisory group for Youth Today! I mean really rock star level – I get excited each time I see the group together on the screen! 
The goal of the Youth Today Advisory Council is simple – to once again make Youth Today the go to publication for those who work with and care about young people. That leads to a two-fold purpose. The Advisory Council hopes to:  

Realize a vision of reporting across the thriving youth fields where journalistic stories and intentional commentary knit together in support of solutions-oriented journalism.

 

Ensure our rapidly growing workforce sees themselves in 

Youth Today

 and leverages the publication to create an identity for the thriving youth fields. 
Two meetings in, we are well on our way. Advisors jumped right into work – bringing story ideas, making connections to sources, thinking about commentary they'd like to write, brainstorming how to grow readership, and more. 
But we need you, too! Take a minute to get to know the Advisory Council members. If you recognize a name, be sure to share great story ideas with them or let them know you'd like to write a column. Don't know anyone in the group? Reach out to me! I'd love to connect with new voices, stories, projects, and people with the Youth Today team.